What Profit Can We Realize Selling Riversweet Indian River Citrus?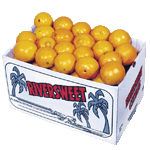 Large Profits Selling Citrus
Most groups realize a profit of approximately $10.00 to $11.00 on each large (40lb.)carton and and approximately $8.00 to $10.00 on each small (20lb.) carton that they sell. This results in a profit percentage of approximately 40 percent on each large carton and 45 to 50 percent on each small carton.
Large cartons contain 4/5 of a bushel and weigh approximately 40 lbs. and small cartons contain 2/5 of a bushel and weigh approximately 20 lbs. We also offer 1/5 bu. cartons that weigh approximately 10 lbs.
A full truckload consists of 1,000 large cartons or 2,000 small cartons, (or any combination that equals 1,000 4/5 equivalent units) enabling you to realize a profit of approximately $10,000 to $15,000 on each full truckload that your group sells.
Riversweet will quote you prices in mid August that will be YOUR COST. You must ADD YOUR PROFIT to the prices that we quote you, to establish your selling prices. In other words, you establish your own prices and determine how much profit you wish to charge for each item that you sell.
Our reccomended profit margin of 40 to 50 percent will enable you to sell your product at prices that will be cheaper than the prices offered by most local grocery stores.
In order to estimate what the profit potential of your group is, merely take the number of members that you have and multiply by the number of cartons that each member will agree to sell. Then multipy by $10.00 to arrive at the approximate profit that your group should realize.
(click on the "Citrus Program" menu button to return to the Citrus Program Page)