Fund Raise with "Smoky Mountain Cookie Dough"
Smoky Mountain Gourmet Cookie Dough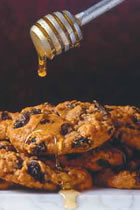 Enjoy delicious cookies any time of the year!
Dough is made from the finest ingredients.
Packed and shipped in reuseable tubs that weigh approximately 2.7 pounds.
Each tub of cookie dough will make approximately 90, 1/2 oz. cookies.
Cookie dough can be refrigerated for 6 months or frozen for 1 year. It is shelf stable at room temperature for 21 days. Dough can be thawed and refrozen.
Cookie dough is available in the following flavors:
Chocolate Chunk
Peanut Butter
Sugar
Snickerdoodle
Oatmeal Raisin
Triple Chocolate
M&M Candies
White Chocolate Chunk
Lemon Drop
Reese's Peanut Butter Cup